Article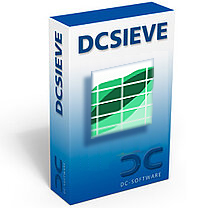 DCSIEVE
The DCSIEVE program can be used to evaluate and represent sieve and sedimenation tests.
Screenshots

Description
Entry of sieve residue or sieve passage in percentage or weight portions with any sieve sets
Entry of the sedimentation tests with any aerometers
Evaluation of the soil classification as per EN ISO 14688-1 and of the soil group as per DIN 18196
Determination of the permeability according to van Hazen, Beyer, Seiler, Kaubisch, USBR, Seelheim
Further extensive evaluation of the uniformity coefficient U, curvature coefficient CC, d10/d60, grain index and grain fractions, portion < 0.063 mm, friction angle according to Lang/Huder/Amann, frost sensitivity class and filter grain size according to DVGW W113 and Bieske
Representation of any number of grain-size distribution curves on one sheet
Representation as an envelope curve is possible
Representation of boundary lines and points according to ZTVT, ETV, ZTV/TL SoB, etc.
Output options: printer, PDF
Export interfaces: graphics export in JPG format, DXF export
Add-on option Frost-proof Analysis as per ZTVE-StB 76/94/09/17, ZTVT-StB 95 and ZTV SoB-StB 04 with DCSIEB-ZTVE
Relevant standards
DIN EN ISO 17892-4
EN ISO 17892-4
DIN EN 933-1
DIN 4226
ÖNORM B 4412
SN 670810/816
DIN 18123
DIN 52098
Related products

DCSIEVE-ZTVE
The add-on option DCSIEVE-ZTVE can be used to check whether the frost resistance of the soil according to the Additional Technical Contract Conditions and Directives for Earthwork in Road Construction ZTVE-StB/ZTVT-StB/ZTV SoB-StB is given.
Show detailview