Article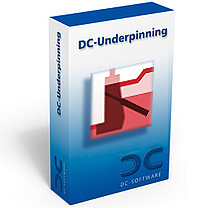 DC-Underpinning
The DC-Underpinning program includes the calculation of building underpinnings and gravity walls. Any unit of underpinning with several layers of anchors and stiffeners can be entered. For the unit of underpinning strengthened soil or concrete can be selected. Optionally, the wall width and the anchor forces can be optimised.
Screenshots

Description
Freely definable geometry of the underpinning unit
Strengthened soil as per DIN 4093 or concrete as per EC 2
Freely selectable position of anchors and stiffeners: consideration of the pre-deformation, the spring constant, and the pre-stressing of anchors
Different base restraints are selectable
Variable horizontal soil stratification
Horizontal and inclined ground surface
Any pre-construction and dismantling states, anchor positions and stiffeners can be selected for each construction state
Entry of groundwater levels to consider buoyancy
For the accurate internal modelling of the structural system (e. g. ground surface and soil stratification), it is possible to import DXF graphics as a background
Several load cases with vertical and horizontal concentrated loads, vertical line loads as the static load or railway traffic as the live load, concentrated moments and consideration of earthquake loads and base water pressure underneath the wall
Different earth pressure assumptions (active, increased active earth pressure and earth pressure at rest) and earth pressure redistributions (including triangular and trapezoidal)
Elastic support with automatic adjustment to the passive earth pressure
Calculation of the wall internal forces with anchor and subgrade reaction forces
Stability verifications: sliding and ground failure
Verification of the hydraulic ground failure at different water levels in front of and behind the wall
Verification of the anchor lengths in the deep slip joint
Calculation of the settlement
Fixed base depth or iteration of the wall length
Wall design as a concrete body with concrete compressive stress and the width of the compression zone
Optional optimisation of the wall width and the anchor force, requires an additional licence
Detailed output of the individual load cases as text and graphics
Output options: printer, PDF
Interfaces: RTF export to MS Word, graphic export in JPG format, DXF export
Foundation engineering standards
EN 1997-1
DIN EN 1997-1
ÖNORM B 1997-1-1
NF EN 1997-1
BS EN 1997-1
UNI EN 1997-1 with NTC 2018
UNE EN 1997-1
EN 1998-5
DIN 1054
DIN 4085
DIN 4017
DIN 4093
SIA 267
Concrete standards
EN 1992
DIN EN 1992
ÖNORM B 1992
NF EN 1992
BS EN 1992
UNI EN 1992
DIN 1045
SIA 262
ÖNORM B 4700
BS 8110
Related products

DC-Underpinning/Optimization
DC-Underpinning/Optimization is an add-on option to the DC-Underpinning program and provides for the optimisation of the wall thickness and the anchor forces.
Show detailview