Article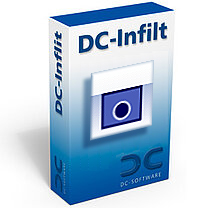 DC-Infilt/Rain
The add-on option DC-Infilt/Rain can be used to check whether the treatment of rainwater in accordance with the Code of Practice DWA-M 153 of the German Association for Water, Wastewater and Waste has to be considered.
Description
Selection of the loading from air and area for the areas to be drained and the type of water body
Selection of the passage values for the treatment according to the tables of the DWA-M 153 Code of Practice
Verification of whether treatment is required
Evidence of the treatment in accordance with the Code of Practice with D < D,max
Only available in combination with DC-Infilt
Related products

DC-Infilt
The DC-Infilt program can be used to calculate infiltration installations. Different types of infiltration are available and a distinction can be made between infiltration of precipitation or a specified inflow volume, e. g. from dewatering of a construction site. Rainfall intensities and precipitation depths can be imported from the KOSTRA Atlas or eHYD and MeteoSwiss.
Show detailview