Article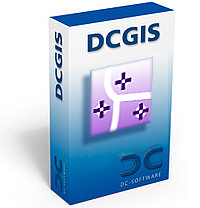 DCGIS
The DCGIS program is used to manage boreholes, gauges, probing, etc. on maps with georeferencing.
Screenshots

Description
Management of all boreholes and other tests on a survey map
Management of any documents at the bore points (Word, Excel, PDF, photos etc.)
Automatic transfer of all boreholes from DCBORE with Gauß-Krüger, UTM, Swiss grid
Transfer of the coordinates to DCBORE
Transfer of site sketches to DCBORE for the header sheet of the layer specification
Insertion of boreholes via Gauss-Krüger/UTM coordinates or graphic positioning and determination of the coordinates
Creating project plans, e. g. as a cut-out with any selection of tests
Use of free and up-to-date Open Street Maps from the internet is possible
Import of georeferenced DXF maps (e. g. topological maps)
Import of any maps as image files (BMP, TIFF, JPEG) and DXF maps with subsequent georeferencing
Automatic georeferencing in Gauss-Krüger or Scout-Cylinder coordinates
Output options: printer, PDF
Export interface: DFX export
Related products

DCBORE
The DCBORE program can be used to represent borehole profiles as well as well lining and gauge instrumentation according to relevant standards and create layer specifications (bore logs). Furthermore, in combination with the add-on options, the program allows the representation of standard penetration tests (SPT) and the determination of the extraction rate of borehole heat exchangers.
Show detailview