Article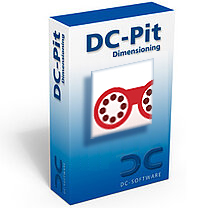 DC-Pit Dimensioning
Design of all wall types, infilling (timber, concrete, pile infilling),
anchors and booms (Eurocode 2 / 3, DIN EN 1992 / 1993, DIN 1045-1 / 18800, OENORM B 1992 / 1993, SIA 262 / 263, OENORM B 4700, BS 8110 / 5950, IS 456 / 800)
Screenshots

Description
Design of construction pit walls
Option for the program DC-Pit
Design of all wall types:
Bore pile walls: design of reinforced concrete, pile infilling for intersected piles
Relieved piles: straight or curved infilling
Diaphragm walls: reinforced concrete design
Sheet pilings: steel design
Girder plank walls: steel design of girders, timber, shotcrete or steel infilling
MIP (Mixed In Place) with concrete infilling
Design of the anchors: steel element and grouted body (fixed length)
Design of the fixing of inserted I-beams (girder plank wall on a bore pile wall)
Design of booms with different profiles
Automatic import of section forces
Selection of predefined girders or profiles
Proposal of a required girder/profile
Simple changing of the parameters
Automatic reductions and increases acc. to Weißenbach resp. EAB
Clear result output with graphics
English, German, French, Romanian, Russian language
Design standards:
Reinforced concrete acc. to: Eurocode 2, DIN EN 1992, DIN 1045, DIN 1045-1, SIA 262, OENORM B 1992, OENORM B 4700, BS 8110, IS 456
Steel design acc. to: Eurocode 3, DIN EN 1993, DIN 18 800, SIA 263, OENORM B 1993, BS 5950, IS 800
Only together with program DC-Pit.
Related products

DC-Crack
Option DC-Crack for DC-Pit
Serviceability verifications / Crack width limitation
Show detailview