Article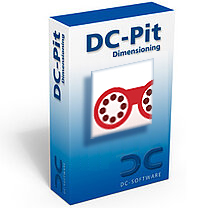 DC-Pit Dimensioning
DC-Pit/Dimensioning is an add-on option to the DC-Pit program and can be used to design the wall types, infilling, anchors and booms.
Screenshots

Description
Automatic transfer of the internal forces and the anchor forces from DC-Pit
Design of the wall types: bore pile walls, diaphragm walls, sheet piling, girder plank walls, MIP (Mixed In Place) walls
Selection of predefined sheet piling types and beam sections (HE-A etc.)
Bore pile wall: reinforced concrete design of the piles, design of the pile infilling with secant piles, design of straight or curved infilling with relieved bore pile walls
Diaphragm walls: reinforced concrete design
Sheet piling: steel design
Girder plank walls: steel design of the girders, design of the infilling of timber, shotcrete or steel
MIP: analogous to the design of bore pile walls with concrete infilling
Anchor: anchor steel and grouted anchor body, design of the grouted body based on the diagrams by Ostermayer or on the specification of the skin friction
Anchor forces optionally for a suitability or acceptance test or the anchor failure analysis
Design of the inserted I-beam restraint for a girder plank wall on a bore pile wall or a diaphragm wall
Design of the booms with different profiles
Suggestion of the required girder/profile
Optional graduation of the reinforcement over the envelope line of tensile force with DC-Reinforcement
Serviceability verifications for reinforced concrete with DC-Crack on option
Licences for the design of the different wall types are also individually available
Detailed output with texts and graphics
Only available in combination with DC-Pit
Related products

DC-Crack
DC-Crack is an add-on option to the program DC-Pit/Dimensioning. It can be used to perform serviceability verifications in connection with the reinforced concrete design.
Show detailview